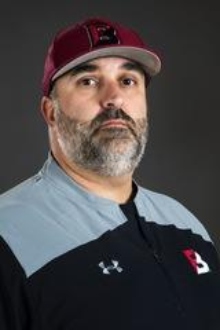 Jon Martin was appointed the 22nd head coach in Bates baseball history on August 24, 2016. 
The all-time winningest baseball coach in Vassar's history, Martin brings a wealth of experience and expertise and a reputation as an outstanding recruiter to the position. 
"We had a highly competitive pool of applicants and I am thrilled that Jon won out in that process," Bates Director of Athletics Kevin McHugh said. "He has well over a decade of successful head coaching experience and is exceptionally knowledgeable and passionate about the game of Baseball. Jon also has a great track record of building deep and trusting relationships with his players as well as with his colleagues, qualities that we value at Bates. I can't wait for Jon to get started."
Promoted from a two-year stint as assistant coach at Vassar, Martin elevated the Brewers from a 3-9 conference record in 2005 to their first-ever appearances in the Liberty League Tournament and first-ever postseason victories in 2013 and 2014, including a 19-14 overall record and 13-7 league record in 2014. Over 12 seasons he coached 12 All-New York Region and 40 All-Liberty League selections, including one Liberty League Player of the Year and one Liberty League Pitcher of the Year.
"I am excited and honored to become the next head baseball coach at Bates College," said Martin. "After visiting campus and meeting the people at Bates, I felt this would be a great place for me to work with first-class student-athletes and be a part of a thriving athletics department. There is a solid foundation for baseball at Bates and I look to continue pushing this program to compete in New England and the NESCAC.  We will play the game with intensity and focus, and always strive to put the best product on the field each day."
At Vassar, Martin expanded the program's database to a national level, covering 50 states. He also helped design and facilitate construction of an on-campus baseball training facility in 2007. Martin has additionally served as athletic facilities coordinator at Vassar since 2008.
Martin has also coached teams representing the United States over multiple years. With USA Athletes International, he led U.S. teams that competed in the Netherlands, Czech Republic, Spain and Japan. With Planet Baseball, he was an assistant coach for a U.S. team that played tournaments in Germany and Puerto Rico. From 2004 to 2005, he was an assistant coach in the New England Collegiate Baseball League with the Mill City All-Americans in Lowell, Massachusetts, coaching 11 players who were selected in the Major League Baseball Amateur Draft. On an annual basis, he has served as an instructor at numerous summer baseball camps at such institutions as Tufts, Davidson, Brown and Columbia.
Martin has also been involved in the sport as the American Baseball Coaches Association's Division III Executive Committee from 2009 to 2015, as well as the NCAA Division III Baseball Committee's New York Region Chair since 2014.
Martin earned a bachelor's degree in health and movement science in 2001 from Lynchburg College, where he was named the baseball team's one-time captain and pitcher of the year. After graduation, he began his coaching career as an assistant at Lynchburg while working toward a master's degree in educational leadership, which he earned in 2003.
While at Vassar, Martin was also involved in local service organizations such as the American Heart Association and Habitat For Humanity. 
"I look forward to meeting everyone from colleagues to students," he said. "I really feel like the campus community is a great place to be involved and I can't wait to start the next chapter of my career at Bates."